2014 Woman of Distinction Award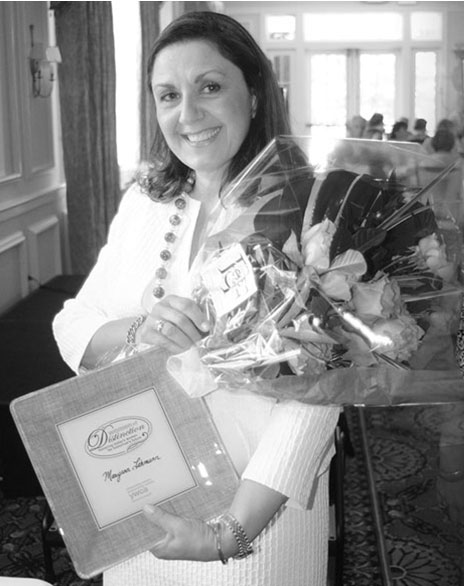 Dr. Maryann Lehmann was the proud recipient of the 2014 Women of Distinction Award from the YWCA of Darien/Norwalk, CT. The award is bestowed in recognition of the outstanding achievements of a select group of women. Local residents and business owners nominate women whose significant and unique contributions have made a difference in the Darien and Norwalk communities.
The YWCA Darien/Norwalk Women of Distinction Nominations Committee reviews the nominations and selects the honorees. The award was given at a luncheon at Woodway Country Club on May 29, 2014. "These six women, each in her own unique way, embody important traits embraced by the YWCA: leadership, perseverance, courage and service. They are trailblazers and we are proud to hold them up as role models for us and for our daughters," said YWCA Interim Executive Director Julie Forsyth.
"Women frequently work behind the scenes to forge stronger families and communities," added MariLu Cleary, Event Chair. "We at the YWCA are grateful for the opportunity to shine a light on these women and celebrate the differences they make every single day."
TOP
2012
TOP
Journal of
the American Dental Association,
"Dentin Caries Activity in Early Occlusal Lesions Selected to Receive Operative Treatment: Findings From the Practitioners Engaged in Applied Research and Learning (PEARL) Network".
Vol. 143, No. 4, April
2013
TOP
Woman of
Distinction Award
Award given by the Darien- Norwalk, CT chapter of the YWCA for professional achievement, community philanthropy and being an inspiration to women in the area.
2014
TOP
Journal of
Dental Education,
"Information-Seeking Behaviors of Dental Practitioners in Three Practice-Based Research Networks".
Vol. 77, No. 2, Feb.
2017
TOP
TOP Dentist Award
(2011, 2012, 2013,2014, 2015, 2016, 2017, 2020, 2021)
Voted by her peers as one of the Top Dentists in Fairfield County, CT. Featured in the July 2011 Moffley Media Publications throughout Fairfield County, which included the magazines Greenwich, New Canaan/Darien, and Westport.
Dr. Lehmann is an outstanding dentist and she and her staff are very knowledgeable and professional. They offer high quality care provided with friendly, personal attention.
R.M.
Dr. Lehmann and her staff are knowledgeable and always offer a clean and friendly environment. As a patient of over 25 years, there's no one else I'd trust with my dental hygiene!
C.K.
At Dr. Lehmann's practice, I am not just a patient, I am a person they know and remember every time I call or go in. The dental care I receive is excellent. It's like having a favorite aunt or best friend as your dentist!
S.C.
I have been her patient for over 20 years. She is courteous, professional and provides a service with a heart, thank you Dr. Lehmann.
C.L.
When you enter Dr. Lehmann's office, you are greeted with great smiles, an on time schedule, a bright and clean atmosphere, high tech equipment, pain-free treatments and relaxing music. And you can always count on leaving with a great smile!
B.K.
I've been seeing Dr. Lehmann for quite a few years now; actually look forward to going! The office treats everyone like family. I even enjoy having Doris clean my teeth!
J.M.
Dr. Lehmann is terrific. I am in my eighties and she is very patient with me. Everyone in her office is very nice.
A.P.L.